Domingues e Pinho Contadores participates in OTC 2019, in the United States
DPC's representatives are on a trade mission at the largest oil and gas event in the world.
The directors João Henrique Brum and Luciana Uchôa are in Houston, USA, representing Domingues e Pinho Contadores on a trade mission at the world's largest oil and gas industry event, the OTC - Offshore Technology Conference. The meeting takes place from May 6 to May 9 and brings trends, innovations, and projections for the next five years in the area, bringing together professionals, executives, and companies from various countries.
It is an opportunity to expand the contacts network, exchange experiences, and promote new business. "This is the place to talk about oil and gas and all the aspects that this segment can provide around the world, since here we find professionals and companies from several continents.", says João Henrique Brum.
50 years
This year, OTC celebrates its 50th anniversary by strengthening its position in the oil and gas area, promoting meetings of professionals from all over the world and expanding important discussions on the environment and technical and scientific knowledge of offshore resources.
Starting activities
On May 8, Luciana Uchôa and João Henrique Brum participated in the "Encontro dos Brasileiros" event, promoted by FGV Energia at Rice University, in Houston. The event brought together players, supply chain, government agencies, development agencies, research centers, development agencies, and international delegations that are on trade missions to the OTC.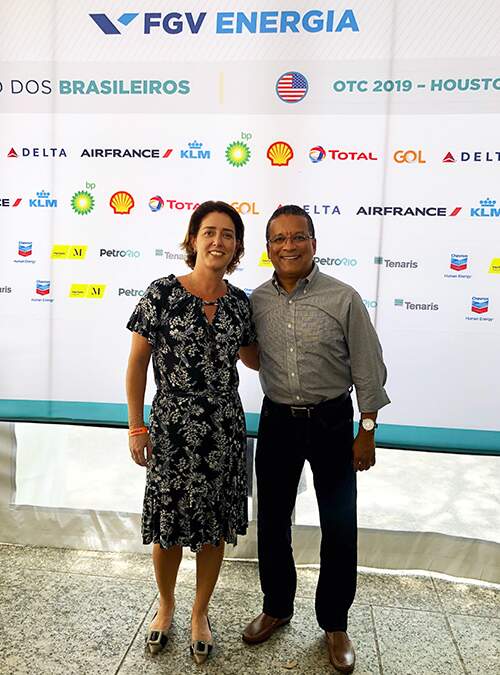 Sharing knowledge
On May 9, DPC representatives will participate as speakers at the "Doing Business in Brazil and OTC Follow-up" event, also held in Houston, by the German American Chamber of Commerce of the Southern United States. The seminar will bring the main impressions of OTC 2019 and debates on opportunities in the oil and gas market in Brazil.
Luciana Uchôa reinforces the importance of DPC's participation in the event. "We have already participated in another edition and this is another opportunity to show all of our expertise in serving companies in this sector, from the implementation of business in Brazil to the support in day to day operations."