DPC was present at the 51st Meeting of GBrasil leading the technological know-how
Under the theme "Inovação" (Innovation, in English), the event ran on May 30 and 31, in Florianópolis, with the presence of representatives of the group.
On May 30 and 31, the 51st GBrasil Meeting was held in Florianópolis, an event that brings together representatives of all companies that are part of the group. Manuel Domingues e Pinho, Carlos Ripper, Luiz Flávio Cordeiro and Karine Lammel represented the DPC at the meeting.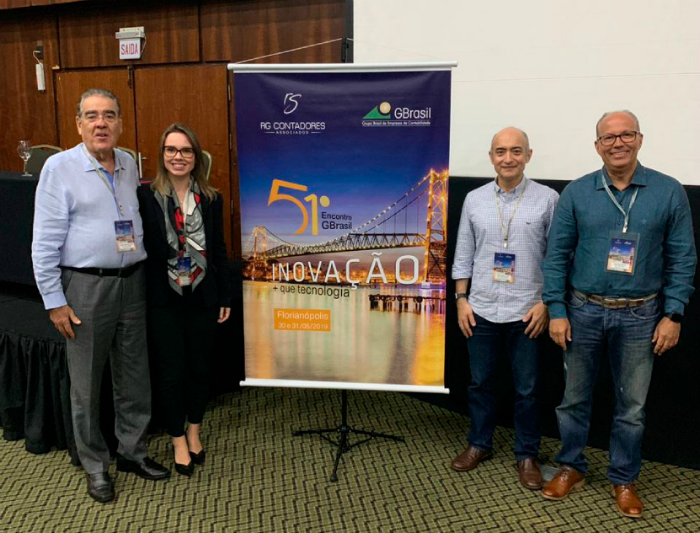 Manuel Domingues e Pinho, Karine Lammel, Carlos Ripper, Luiz Flávio Cordeiro (photo: Renato Gama).
The event brought important issues about the market and the Accounting professional, who, as the accounting scientist, Luiz Felipe Ferreira, a doctor from UFSC, said at the opening of the event: "The accountant is definitely leaving the manual labor to concentrate on the intellectual work of the profession".
The expert commented on the disruptive technologies currently applied to the accounting sector, the technological processes that narrow the treasury-payer relationship and the great moment in the valuation of the accountants' intellectual work.
Technology for Accounting
In order to endorse the opening theme Carlos Ripper, on Friday, participated in the Talk show TI that debated on the advisory systems and applications the associates use in the operational routine.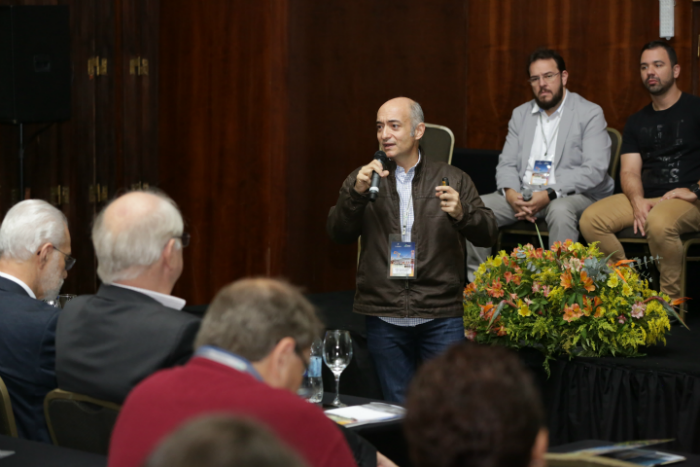 Carlos Ripper durante o Talk Show (photo: Renato Gama).
DPC, as a pioneer in the subject, spoke about the use of technological resources to facilitate the day-to-day work of its employees, who can dedicate more time to provide strategic support to clients. Videos on some applications of Robotic Process Automation (RPA) internally developed by the company's Process Office team were presented.
"DPC has been adopting the use of this technology to assist several daily routines, granting greater agility and safety. We present the videos that show the robots work, which raised the curiosity of the audience," said Ripper, who participated in the Talk show along with Anderson Pedrosa, Contac; Lucas Santos, RG Contadores; and Antonio de Paula, De Paula Contadores.
GBrasil
Created in 1996, GBrasil is a pioneering alliance in the accounting area that gathers 39 accounting firms located in all Brazilian capitals. Aiming to offer a broad management services portfolio, it promotes integration among member companies, enabling a wide service network in the main Brazilian cities.