eSocial pass through new schedule adjustment
On October 5, the eSocial Steering Committee set new deadlines to send events to the government database. The decision was based on a diagnosis that identified the difficulties of companies in adjusting their systems and processes to the new presentation form of labor and social security obligations, according to information provided by the Portal eSocial.
The standard does not change the deadlines for the companies of the 1st group, which have already sent all the events to eSocial, except for the Occupational Safety and Health events, which should be sent from July/2019.
Taxpayers, who are still in the adjustment phase, will have more time for the necessary internal adjustments for a full service to the system.
See the new schedule:
1st GROUP: business entities earning revenues greater than BRL 78 million in 2016
Tables: Jan-8-2018
Non-periodic: Mar-1-2018
Periodic: May-08-2018 (data from the 1st day)
Substitution of GFIP for Social Security Contributions: August/2018
Substitution of GFIP FGTS: November / 2018
SST: July / 2019
2nd GROUP: business entities earning revenues greater than of up to BRL 78 million and that do not opt for the Simples Nacional in 2016
Tables: Jul-16-2018
Non-periodic: Oct-10-2018
Periodic: Jan-10-2019 (data from the 1st day)
Substitution of GFIP for Social Security Contributions: April/2019
Substitution of GFIP FGTS: April/2019
SST: January/2020
3rd GROUP: Employers opting for Simples Nacional, employers (except domestic), individuals rural producers and non-profit entities
Tables: Jan-10-2019
Non-periodic: 04/10/2019
Periodic: Jul-10-2019 (data from the 1st day)
Substitution of GFIP for Social Security Contributions: October/2019
Substitution of GFIP FGTS: October/2019
SST: July / 2020
4th GROUP: public entities and international organizations
Tables: January/2020
No Periodic: Specific resolution, to be published
Periodic: Specific resolution, to be published
GFIP Replacement for Social Security Contributions: Specific resolution, to be published
SST: January/2021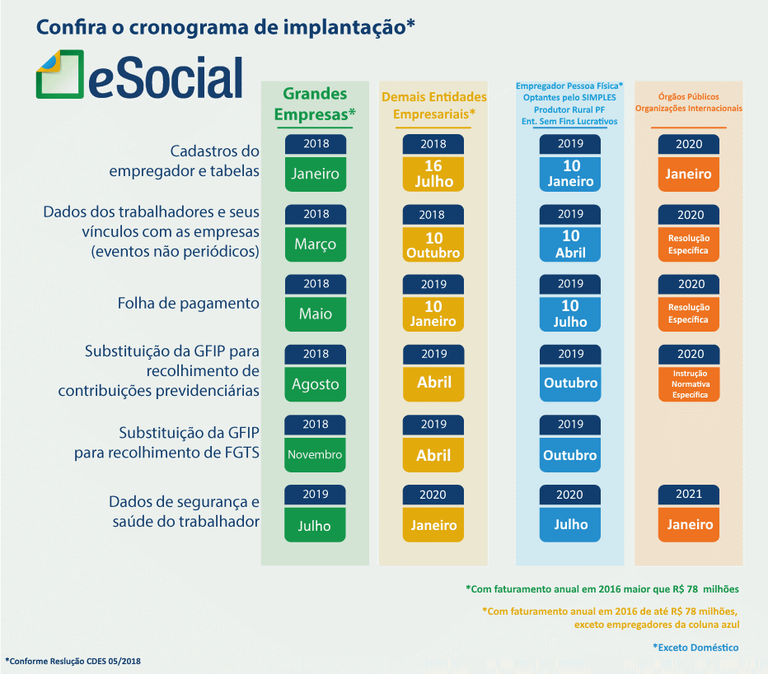 Source: Portal eSocial