Marluci Azevedo participates in the talk show at CRCRJ
On April 25, the DPC's director, Marluci Azevedo, was invited to take part in the talk show promoted by the Regional Accounting Council of Rio de Janeiro in celebration of the Professional Accounting Day. In addition to celebrating the date, the objective of the event was to discuss the scenario and challenges of the accounting profession.
At the opening, the President of CRCRJ, Waldir Ladeira, welcomed the guests with a speech that emphasized the importance of the class to our Country and the personal characteristics of those who choose Accounting as a career: ethics, commitment, dedication, integrity, among others. After the speech, the activities of the day began.
"I participated in the debate on the challenges of the profession with the new technologies that gave a good discussion for the future. The event was very successful in opening space to exchange ideas and experiences with colleagues on the current scenario, challenges and expectations of our area for the next years," Marluci said. The debate was also marked by the participation of the accountants Cássia Oliveira and Stephanie Guimarães and the mediation of CRCRJ Deputy President of the Interior, Ademilton Dantas.
With the presence of the accounting class representatives, the event also featured the lecture "How attract Prosperity to your Accountant Career". The speaker, Edilson Jr, interacted with the guests in a relaxed way, also calling on a reflection of what prosperity is, concluding with an impact phrase: "Nothing will replace the Accountant. The robot is the medium. The end is us."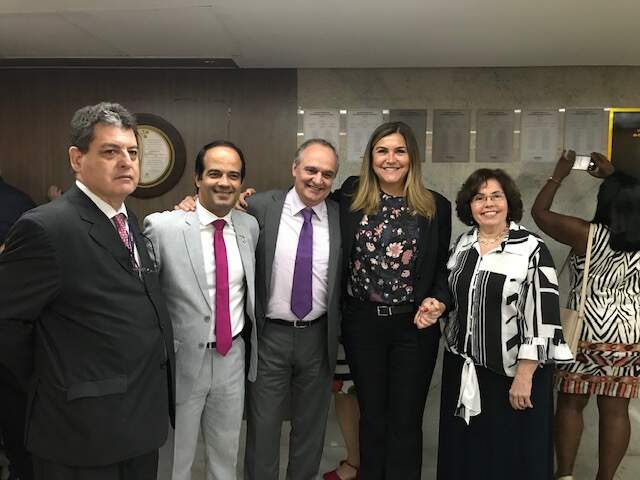 In the photo, Marluci is next to the President of the Accounting Union Mrs. Diva Maria de Oliveira Gesualdi, former Presidents of CRC RJ - Nelson Rocha and Antonio Miguel Fernandes and the President of CRC-RJ Waldir Ladeira.